IDT 2013/2/2 Kognition, Sprache, Musik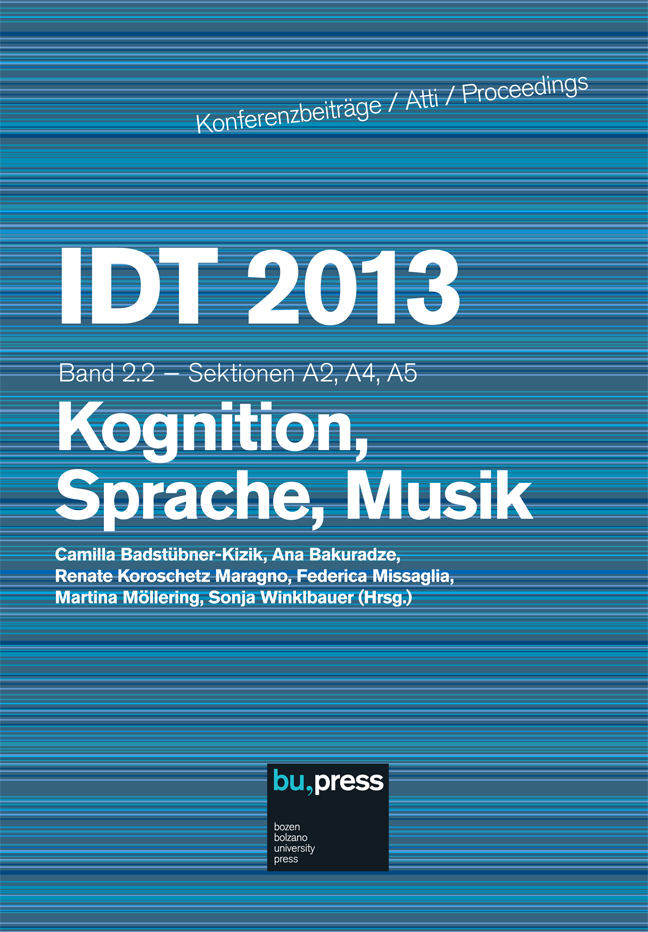 Product Materials
Die Bände 2.1 und 2.2 versammeln Beiträge der Sektionen "Kognition und Spracherwerb", "Habitus, Motivation und Einstellung", "Musik, Sprache und Kognition", "Prosodie und Phonetik" sowie "Körper, Bewegung und Sprache" an der IDT 2013 in Bozen. Sie vereinen theoretisch verortete Beiträge mit praktisch orientierten Untersuchungen aus den unterschiedlichsten Lehr- und Lernsituationen. Im Zentrum stehen Aspekte der Schnittstelle von "innen" und "außen" beim Sprechen und beim Spracherwerb, die in der Prosodie ihren empirisch fassbaren Angelpunkt haben.
Die Verfasser sind an Universitäten und Schulen in aller Welt tätig und verstehen ihre Beiträge als Dialog mit den Sprachlehrpersonen, die in einem Umfeld gesteigerter Ansprüche und wachsender Anzahl an Interessenten für Deutsch weltweit nach neuen Impulsen für ihre Tätigkeit suchen.
This title (excluding the cover and the quotations) is licensed under a Creative Commons Attribution-ShareAlike 4.0 International License.