Vocabolar dl ladin leterar 1/Vocabolario del ladino letterario 1/Wörterbuch des literarischen Ladinisch 1
Lessich documenté dant 1879/Lessico documentato prima del 1879/Vor 1879 belegter Wortschatz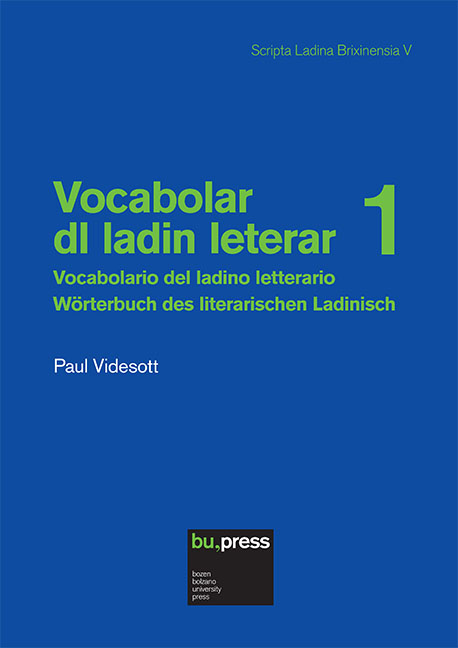 Product Materials
Un dizionario interamente basato su testi, con le varianti di tutti gli idiomi di vallata, etimologia, prime attestazioni, definizione dei singoli significati e una ricca esemplificazione mediante attestazioni provenienti da oltre 200 testi della letteratura ladina dell'Ottocento.
This title (excluding the cover and the quotations) is licensed under a Creative Commons Attribution-ShareAlike 4.0 International License.
Die große Bedeutung dieses Werks für die Forschung, aber auch für die ladinischsprachige Gemeinschaft, steht außer Frage: Das Werk stellt einen wichtigen Thesaurus der literarischen ladinischen Sprache(n) dar; es zeugt vom lexikalischen Reichtum dieser, aber auch von einer durchaus beachtlichen literarischen Verwendung derselben. Die umfangreiche Mikrostruktur bietet zahlreiche Informationen, welche sowohl für Lai*innen als auch für Romanist*innen und Ladinist*innen von großem Interesse sind und für verschiedene Forschungsfragen von großer Relevanz sein können. Für die ladinischsprachige Gemeinschaft ist das VLL ein wichtiges Werkzeug, das nicht nur zur "musealen Aufbewahrung" historischen Wortschatzes, sondern zur aktiven Verwendung und Konsultation dienen kann und auch für künftige Fragen im Bereich Sprachplanung und Sprachpolitik ein unabdingbares Instrument darstellt.
Europäisches Journal für Minderheitenfragen, Luca Melchior, 2020