Vocabolar dl ladin leterar 1/Vocabolario del ladino letterario 1/Wörterbuch des literarischen Ladinisch 1
Lessich documenté dant 1879/Lessico documentato prima del 1879/Vor 1879 belegter Wortschatz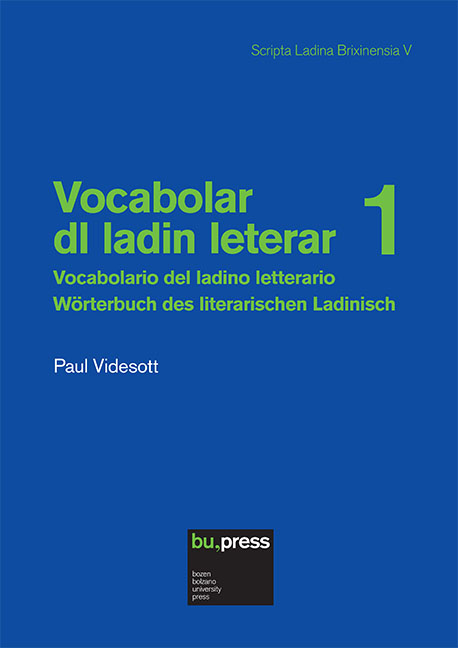 Product Materials
Un dizionario interamente basato su testi, con le varianti di tutti gli idiomi di vallata, etimologia, prime attestazioni, definizione dei singoli significati e una ricca esemplificazione mediante attestazioni provenienti da oltre 200 testi della letteratura ladina dell'Ottocento.
This title (excluding the cover and the quotations) is licensed under a Creative Commons Attribution-ShareAlike 4.0 International License.
Die große Bedeutung dieses Werks für die Forschung, aber auch für die ladinischsprachige Gemeinschaft, steht außer Frage: Das Werk stellt einen wichtigen Thesaurus der literarischen ladinischen Sprache(n) dar;es zeugt vom lexikalischen Reichtum dieser, aber auch von einer durchaus beachtlichen literarischen Verwendung derselben. Die umfangreiche Mikrostruktur bietet zahlreiche Informationen, welche sowohl für Lai*innen als auch für Romanist*innen und Ladinist*innen von großem Interesse sind und für verschiedene Forschungsfragen von großer Relevanz sein können. Für die ladinischsprachige Gemeinschaft ist das VLL ein wichtiges Werkzeug, das nicht nur zur "musealen Aufbewahrung" historischen Wortschatzes, sondern zur aktiven Verwendung und Konsultation dienen kann und auch für künftige Fragen im Bereich Sprachplanung und Sprachpolitik ein unabdingbares Instrument darstellt.
Europäisches Journal für Minderheitenfragen, Luca Melchior, 2020
Mit dem Herausgeber wünscht man sich, dass das Vocabolar dl ladin leterar bei den anvisierten Zielgruppen bewirkt, was man sich von ihm erhofft: dass die Ladiner selbst die Geschichte der eigenen Sprache besser kennenlernen und dass durch die Konfrontation mit Texten aller ladinischen Varietäten der Zusammenhalt der Gesamtladinia gestärkt wird. Dass das Werk für die Angehörigen der zweiten Zielgruppe, rätoromanistische und weitere Linguisten, eine hochwillkommene Bereicherung darstellt, steht ausser Frage.
Vox Romanica, Ricarda Liver, 2020
Das vorliegende Vocabolar dl ladin leterar stellt bei der Erforschung der Geschichte des ladinischen Wortschatzes einen beachtlichen Schritt nach vorne dar, und wenn die geplanten fünf Lexikonbände einmal fertig sein werden, wird das Dolomitenladinische, was den Wortschatz anbelangt, eine der am besten dokumentierten romanischen Kleinsprachen sein. Man kann also dem Fortgang des Unternehmens nur viel Glück wünschen!
Zeitschrift für romanische Philologie, Johannes Kramer, 2020
Il fatto stesso che, aiutati dai mezzi informatici, i redattori abbiano potuto abbondare nel tipo e nella quantità di informazioni fornite, costituisce inoltre un pregio di questa pubblicazione che accanto all'ampia messe di dati fornisce anche molte analisi nuove.

Revue de Linguistique Romane, Giampaolo Salvi, 2020
Al di là dell'indubitabile pregio e rilievo del lavoro, del quale attendiamo naturalmente i previsti sviluppi, un'ulteriore considerazione va spesa sul senso più profondo, forse, di tutta l'operazione: l'aver portato il ladino, una lingua calata in un contesto sociolinguistico molto particolare e che potremmo dire "piccola", quanto meno per numero di locutori, a misurarsi con una prospettiva "grande", quella dell'uso scritto e letterario, una prospettiva perseguita attraverso la raccolta sistematica e pressoché completa della produzione disponibile. Di ciò dobbiamo dare merito all'Autore dell'opera, Paul Videsott, che ha saputo pensare e avviare, con energia e determinazione, il complesso lavoro di censimento e di organizzazione di tutti questi materiali: il Vocabolar coglie alla fine, ad un tempo, il duplice risultato di soddisfare il bisogno comunicativo della popolazione locale, con la disponibilità di un repertorio lessicale di grande ricchezza, e le necessità di studio e ricerca della comunità scientifica dei romanisti.

Bollettino dell'Atlante Linguistico Italiano, Federico Vicario, 2021