Vom Heim in die Selbständigkeit – Perspektiven jugendlicher Care-Leaver auf den Übergang
Brixener Studien zu Sozialpolitik und Sozialwissenschaft 7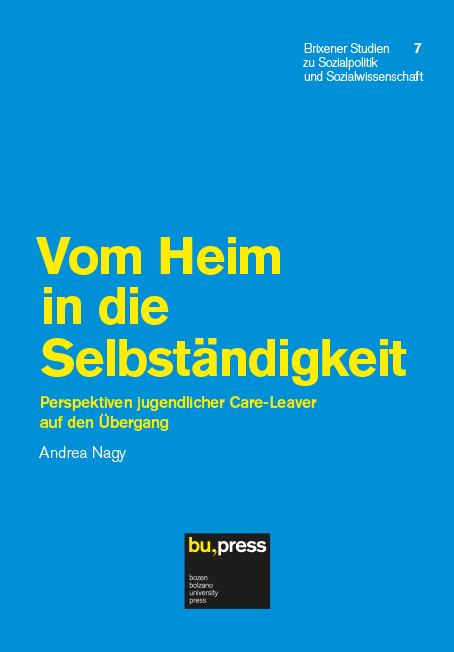 Product Materials
Ausgehend von einer erstmaligen empirischen Untersuchung zu Bedingungen des Übergangs aus der stationären Fremdunterbringung in die Selbständigkeit von Jugendlichen in der Autonomen Provinz Bozen-Südtirol gibt dieser Band Einblicke in das implizite Orientierungswissen von Jugendlichen und jungen Erwachsenen und erforscht Gesichtspunkte der Übergangsbewältigung von Care-Leavern. Die gewonnenen wissenschaftlichen Einsichten liefern Schlüsse für eine verbesserte Konzeption von Angeboten in der konkreten Übergangsgestaltung im lokalen Kontext und zeigen, wie sich Forschung und Praxis der Sozialen Arbeit am Gelingen der bevorstehenden Übergänge sinnvoll beteiligen können.
This title (excluding the cover and the quotations) is licensed under a Creative Commons Attribution-ShareAlike 4.0 International License.
Mit ihrem Buch hat Nagy Fragen aufgeworfen, auf die Südtirol zu selten Antworten geben kann. Ziel ihrer Forschung ist es, zu verstehen, wo die strukturellen Schwächen in der Kinder- und Jugendhilfe liegen und welche Maßnahmen dem Bedarf, der in diesem Themenfeld gegeben ist, gerecht werden könnten.
Dolomiten, Tagblatt der Südtiroler, vom 15.11.2021, S. 18